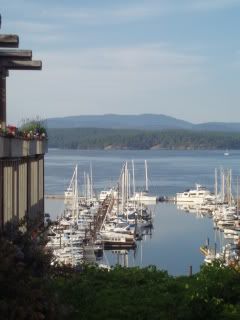 Do you like to view beautiful scenery while you're running?
How do you feel about running solo?
Are the hills your "friends"???
These are some of the questions you should ask yourself before deciding to run the San Juan Island Marathon.
First of all, who doesn't enjoy scenery! The San Juan Islands are noted for spectacular scenery.
Second, it is a very small race; only 75 finishers in the marathon this year. You may find you're out there on the course by yourself.
AND- be prepared for a roller coaster ride. There isn't one mile of the island that's flat.
How did I choose to run the SJI Marathon? It all started when The Other Jeff and Bendare2, aka Matt, decided to go for Ruthenium level in the Marathon Maniacs. For Jeff it would be an upgrade and for Matt, he didn't want to even join until he met the 5 Star, qualification criteria by running 3 marathons in 3 different states within 9days. In this case it turned into a Double, Double: 2 marathons in 2 weekends. They decided to add a 4th marathon for fun.
I had been considering running the Rock and Roll Marathon in San Diego that same weekend, so when Jeff suggested that I run at least one of the marathons that they were running, I decided on SJI. After completing my 50 state marathon quest and running over 100 marathons, I've decided to repeat my favorites and find new interesting marathons to run.
The San Juan Islands would certainly prove to be an interesting choice! First of all, it seemed to me that no one knows where they are. Nearly everyone I mentioned the Islands to thought I was going to run in Puerto Rico! Wrong San Juan—the San Juan Islands are located in Northwestern Washington State. You get there by flying into Seattle and then taking a 45 minute flight on small puddle jumper from Boeing Airfield; or (as we did) you drive 2 hours from Seattle to Anacortes and take an hour long ferry ride to Friday Harbor, the quaint old fishing village-now a tourist haven of shops, galleries and restaurants.
I knew I'd enjoy seeing a new sights and getting away from the already 100 degree plus temperatures in Las Vegas. Most of all as the San Juans are home base to about 90 Orca Killer Whales. I was looking forward to going out on a whale watching trip.
I enlisted what I call the "A" Team, my traveling companions, Phil and Steffen and we were ready to go.
Phil decided that he would be happy running the half (he must have already researched the course, and knew better). Steffen decided to come along anyway, even though he's been unable to run for at least a month, due to a knee injury.
Day 1: Our flight wasn't scheduled until 9pm on Friday night, so why was I stressed out and rushing around at 3pm? I'm always late, that's why. Classic over planning is usually my downfall. I had packed almost everything the day before so I would be ready early however a "nail emergency" sent me on an emergency stop at the nail salon before we headed out to the airport.
With my smudged nail repaired completed and a pedicure, we stopped to pick up Phil on our way to the airport.
We arrived in plenty of time so we leisurely strolled to the gate, which meant we were some of the last people to board.
I knew we were on a small plane, however when I planned taking a nap on the 2 hour flight, I had no idea how cramped and uncomfortable it would be! As a frequent flyer, I'm usually upgraded on all of my flights. Unless I'm exhausted, it's doubtful I'm going to be able to sleep on a small plane!
No problem, we arrived in Seattle before midnight and were at our hotel, the Embassy Suites before midnight. This was important as the next morning we needed to be up as early as possible to make the 9:35am ferry from Anacortes, a 2 hour drive away!
Day 2: We were up at dawn; however we weren't ready to leave until about 7am. Free breakfast delayed our early departure. You see Embassy Suites offers a cooked to serve breakfast which Steffen and Phil couldn't resist. I, however, don't like to eat that early so I planned to take some fruit, muffins and coffee from the buffet. Apparently, the cover wasn't quite secured on the coffee cup-I must have squeezed it and as it wasn't a sturdy Starbucks cup, the top went flying off and the entire cup of coffee ended up on my pants.
.
Needless to say, spilling boiling, hot coffee on your leg will cause a burn. Plus it hurts!! I was so embarrassed that I quickly mopped it up and dashed upstairs to change clothes.
I had another 3 or 4 pants to choose from; I quickly changed and we were finally on our way.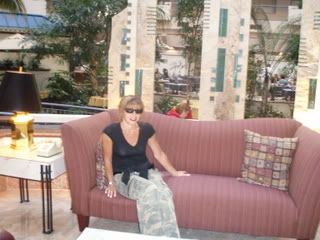 It was about an hour and a half drive from Seattle to the ferry. We somehow made it without getting lost and plenty of time to spare.
Even though they tell you that it's not necessary to bring a car on the island, we decided we wanted explore, so we drove into line and waited. It was a chilly morning; we needed jackets as we stood outside of the car and waited. I struck up a conversation with a guy in a truck parked next to us. He was working on a construction project on the island and had brought his 2 daughters and 4 dogs along to keep him company.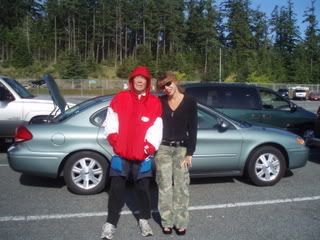 Finally we got to drive on to the ferry. We parked and went upstairs and sat in the passenger area, for the hour long trip. I chatted with a nurse who was sitting across from us. She told me she commuted back and forth a couple of times a week. We talked about the island and her life therefore the last 20 years. She was very informative and gave me a lot of insight into what island life was like in the San Juans.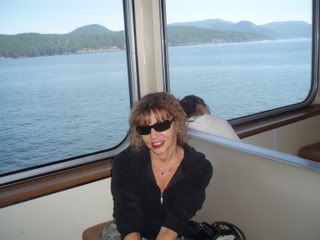 ]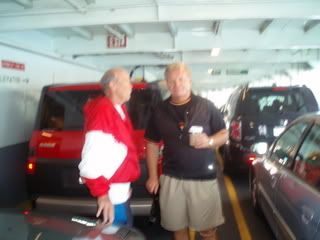 Once we were close to shore, an announcement was made for the passengers to return to their cars. Minutes later we were driving off ferry and our way to the marathon's host hotel, the Best Western Friday Harbor.
The hotel was on the edge of town, just a few blocks from the ferry. We checked in and decided to make our first stop the marathon expo.
Packet pick-up and the expo are located about a 3 minute drive away at the fairgrounds. In the summer this is the site of the County Fair, it consists of a horse ring, and a couple of exhibition halls, probably busy and bustling when in use, however not this day.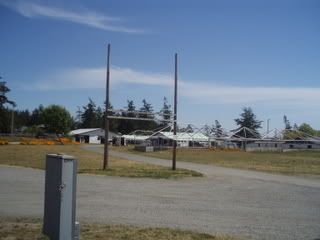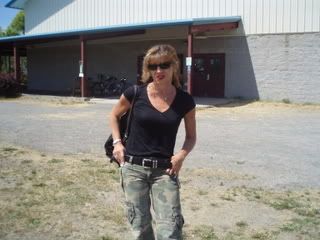 There were a few vendors selling running gear and food, and a local doctor doing a gait analysis.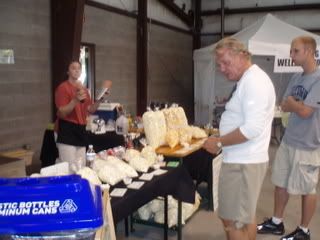 Phil and I picked up our numbers and shirts, as well as Jodie's, our friend from the LVM21 club. She planned to come from her home outside of Seattle on Sunday morning. I had to laugh, hoping that I had her last name right! Not to worry, I found the right Jodie!
Next stop was lunch, which we ate outside on the terrace facing the harbor at the Downrigger. We then took off on a driving tour of the course.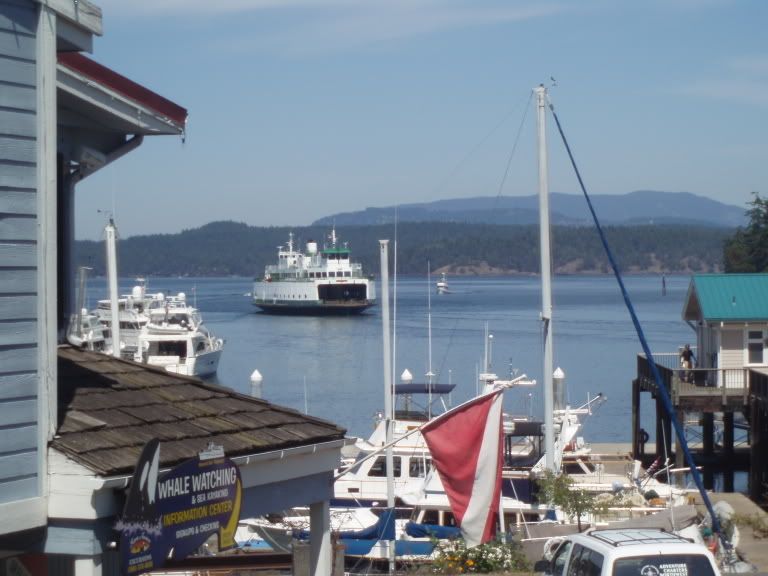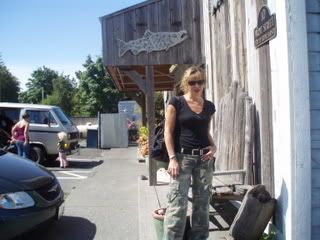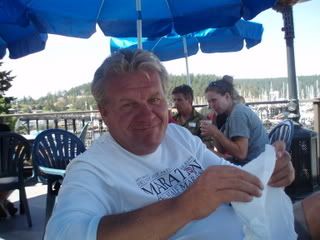 First thing I noticed were the hills. After those hills, there were more hills and yet, even more hills. It seemed that there wasn't one part of the course that was flat.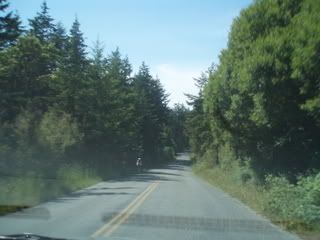 We turned at the corner where the half marathon and the full, divided. We followed the road a little further than the marathon turn around point and found ourselves at the Lime Kiln Lighthouse .park. We stopped and took a look around the area.
We followed a path down toward the water and found the lighthouse and the whale watching lookout point.
We were only there for a few minutes when we saw a group of kayaks following a pod of whales! Perfect timing! We got to see maybe 5 or 6 whale as they breached—jumped up in the air and surfaced as they swam past us.
After they went on their way, I noticed the lighthouse was open and went inside to speak to the naturist on duty. He informed me that out of the 3 pods that frequent this area, there was only one in residence at this time-J Pod. And what we had witnessed was one of the most famous of the whales they are tracking, Ruffles- a 50 year old male, with a distinctive wavy fin, thus the name!
We got back in the car and continued with our course tour. Still beautiful scenery, however, more and more hills. It was getting late so we made a quick stop for some groceries, and returned to the hotel to get ready for the pasta dinner.
Matt, Jeff and his wife, Linda had finally arrived. The 2 guys had run the Green River marathon earlier that day and had traveled directly from the finish line of that marathon to the packet pick-up of their next race tomorrow, an unbelievable schedule!
I called and asked if they wanted to join us for pasta, they said no and decided to eat at the hotel restaurant.
It was a short drive back downtown to the Grange Hall for the pasta dinner. Actually, it looked like things were winding down when we arrived, however they were happy to serve us –Caesar salad and spaghetti with either marinara or meat sauce. Beverages- either water, my choice or Alaskan Ale, which Phil was game for.
To my horror, Steffen sat down at a table with a couple and their mom/mom-in-law. It appeared to me that they were not experience runners or pasta dinner goers and probably though we were incredibly rude. I later found out it was the husbands 1st race and the wife had run one half a long time ago. It was his mom, visiting from California and they weren't so bothered that we had interrupted their evening once we got talking to them.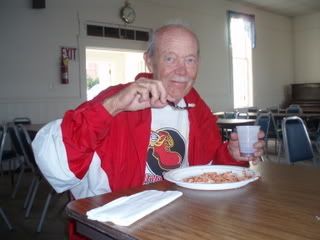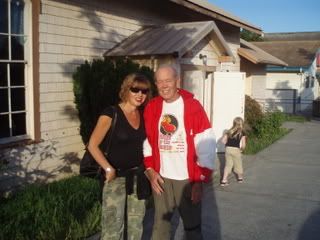 After dinner, we went back to the hotel and met up with the 2 guys and Linda, who having just finished dinner were still sitting out on the patio. We sat and chatted for hours! Jeff and Matt were so funny as they told us their tales of their Double, Double adventure.
Steffen and Phil had long left for bed when I finally was too cold to sit out any longer and went in.
With an 8:30am start, I was hoping to sleep a bit later in the morning. And also with no rooms, other than a one bedroom suite with only 2 beds for 3 people, I had a not so comfy night's sleep on an air mattress to look forward to. Needless, to say, it was not my best night of sleep ever and the 5:30am "way too early wake up call" came much too soon!
Day 3: Marathon Day!!!
As I mentioned, I was woken up an hour before I had planned. Going back to sleep was impossible so I decided to just get up, take it slow and start to get ready. Steffen and Phil went out to breakfast; I ate my usual pre-race half of Power Bar.
Jodie called from the ferry. She had taken her car aboard so she planned to drive to our hotel then follow us to the starting line.
The guys came back from breakfast and I informed Steffen that we had to wait for Jodie. He seemed a little annoyed, since he couldn't run; he had made plans to direct traffic.
It was only a couple of minutes later when Jodie arrived. She seemed much tinier than I had remembered her. I knew that she had gotten very serious about her training lately and it showed.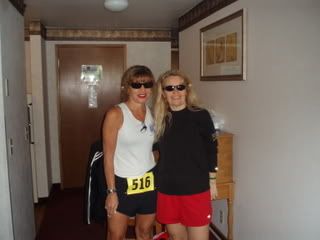 We took some photos; then left for the race. We had about a half hour until starting time at this point.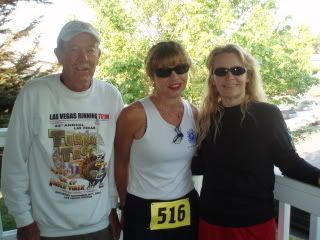 Once we got to the fairgrounds, Steffen took off in a truck with the race director and we walked around for a few minutes until it was time to take our places at the start. It wasn't until then that I saw Matt and Jeff. They were lined up parallel to us on the other side of the pack. We went over to them, said hello (they hadn't met Jodie before) and discussed our race strategy.
Matt and Jeff told us they planned to run a 4:45. I really had hoped to do better than that so I made the decision not to run with them. I'd go it alone; that is until the marathon and the half split; until then I could run the first 6 or 7 miles with Jodie. Knowing how fast the fellows are and my usual go out fast and try to hang on strategy, they would probably catch up to me soon enough..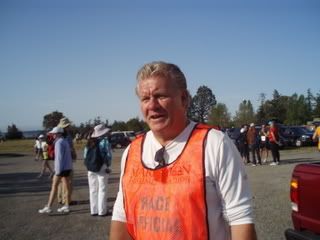 The gun went off and we started to run. My impression of the first mile was "Oh, no! They're starting already!" The hills that is! From the first mile on, it was nothing but hill after hill after hill.
Jodie and I were chatting, for the first couple of miles, even though I was having some trouble catching my breath. Aside from the hills it was actually more humid than I had expected, and it was quite sunny with very little shade. Jodie seemed to be running along quite easily as were most of the half marathon runners around us. I ended up walking on most of the steep hills and I was thrilled when we stopped at a water station and Jodie took a minute to take some photos.
It was actually a good thing that I ran those first miles with Jodie; she pushed me much more than I would have on my own. When the split came at about mile 6, in a way I was sorry, as it was nice to have her company and in another way I was relieved it could take it easier! Actually, I've run quite a few marathons where the half and the full start out together—somehow in my mind the race really doesn't begin until those half marathoners are out of the way!
As we had driven the course the day before so I knew this windy road leading down to the lighthouse park was about the most scenic part of the course.
The road was very curvy and as there is no shoulder or sidewalk, you basically had to run in the street. This really was not a problem as the traffic consisted of one car every 5 minutes or so, however I was a bit worried, as I realized that a drivers probably wouldn't see a runner until it was too late. Not wanting to be splattered on the highway, I finally asked the one other runner who was near me which side of the road he thought we should be running on. "Into traffic" was my thought and his answer, although we were actually running on the opposite side. Go figure! Although, I was sure I could see the newspaper headline from the next day, luckily, no one was splattered.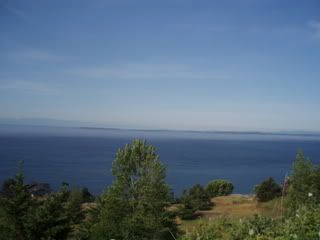 At the top of the hill, on the very first curve, the most beautiful vista of the Strait came into view. Unfortunately, there was also a dead raccoon. As a big animal lover, I turned my head away as soon as I got a glimpse of it, and tried to focus on the water and the trees. I looked up and I saw what I believed to be a bald eagle soaring above. At least I think it was an eagle. I know they nest nearby however it could have been a crow for all I knew; I'm not very knowledgeable about birds. Anyway, I'd like to think it was an eagle.
As we ran through the woods, the course became very dark and shady. I ran downhill toward the turn around, I saw many of the fast runners coming up the hill. This was really the only part of the course where you saw other runners.
I finally got to the turnaround and was making my way back up the hill when I saw Matt and Jeff. The must have been about a mile behind me. Jeff stopped and took a photo of me and Matt and they continued on their way and I continued on mind, worried that I was falling behind and they would soon be passing me!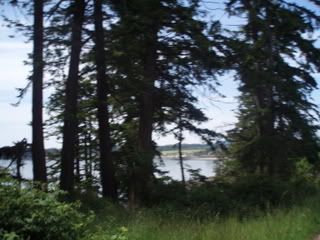 It seemed like this stretch of the course went on much longer than it had on the way out. I was counting the miles and calculating how long it would be until I saw the dead raccoon again and got to the "port-a-pottie" where the half and full split off.
Once I finally got there, I made a pit stop, even though it wasn't necessary. A tiny anorexic looking gal who had been in front of me for the last few miles had stopped too, so we exchanged a few encouraging words.
I continued on the course and to my surprise came up behind a number of half marathon WALKERS. It was nice, at least to see some other humans! I greeted each of them as I "flew" past them at my speedy 11 minute pace!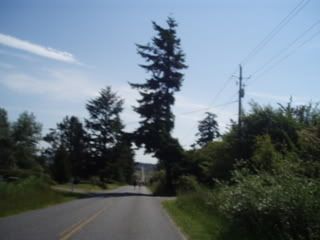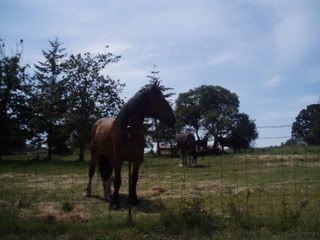 The hills kept coming and I soon felt myself adjusting my running and walking so at least I didn't complain (to myself) on each one! For someone in great shape and used to running hills, this would have been a fun marathon. I had an idea what I was in for, however I had purposely NOT looked at the elevation map.
http://www.sanjuanislandmarathon.com/documents/SJIMarathonprofile.pdf
The course turned past the airport, field with a landing strip and a few planes parked around it. I knew this was where the final 6 mile loop of the marathon course would begin.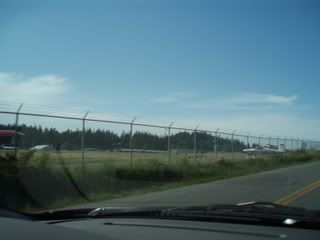 This was the only part of the course we hadn't driven; I wasn't sure what to expect. I thought I heard someone call out that the next 5 miles were flat-apparently I heard wrong. Again, more hills. Beautiful scenery, but all hills. At this point in the race there was only one other runner in view about ½ mile ahead of me. I couldn't see anyone behind me and tried to imagine where the guys were as I still expected to see them.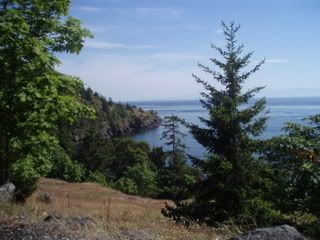 What I didn't expect to see was Steffen on a bike! I was listening to my MP3 player and into my "zone" when a cyclist came up behind me and said something. It took me more than a moment to register it was Steffen.
He had decided to rent a bike and take a tour of the marathon course on his own. He told me he had just seen Matt and Jeff. They were about a mile and half behind me. Matt was limping and thought he had a stress fracture in his foot.
Steffen biking along side of me was a great idea. I really appreciated the company. Those last 3 miles passed quickly as we chatted and I actually passed a few guys who were in very bad shape and walking.
Finally, I made it to the finish line! A pokey 4:40, however, 1st in my age group! (We won't mention that there were only 2!)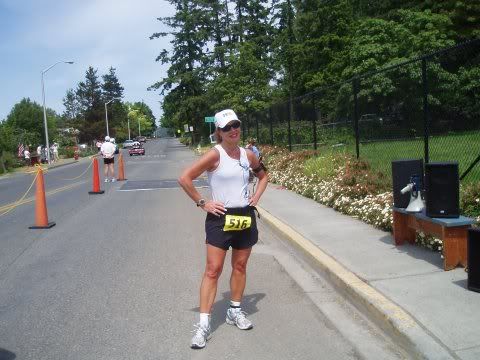 Again, I was surprised to see Jodie and Phil waiting. They had both finished the half about 2 hours before! We waited with Linda for the 2 guys, who followed about 10 minutes later,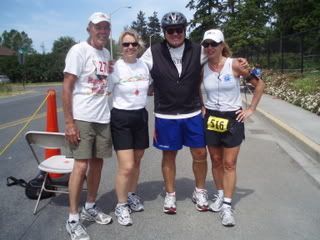 They did have quite a bit of food at the finish line for such a small race. I was more thirsty than hungry so I opted for some Gatorade and M&Ms, and decided to wait to eat later. We had lunch plans for the awards ceremony later in the afternoon at Friday's Crab House.
We went back to the hotel, changed and went off to the Award Ceremony. They made a nice presentation, however no awards! Not a trophy, a ribbon or a plaque. The finisher's medal was a sort of an "art project looking" round orange ceramic, with a map of the island and 26.2 written next to it. They intended for it to be worn as jewelry!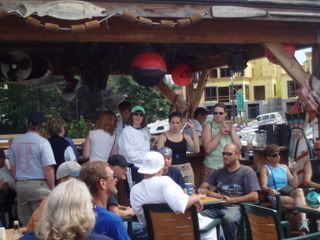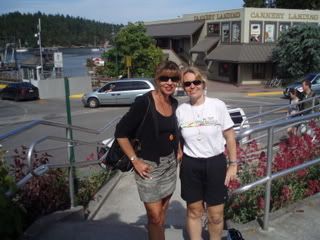 After lunch, Jodie, Matt , Linda and Jeff all left on the ferry that afternoon. Steffen, Phil and I were booked on a sunset whale watching cruise later that afternoon.
We went back to the hotel and quickly changed rooms. Thankfully, they were able to get us a 2 bedroom suite for Sunday night.
We picked up warmer clothes and headed back to the dock. We were the last to board of the twenty or so people sailing. After a short briefing by the captain and the naturalist, Margot, we set sail.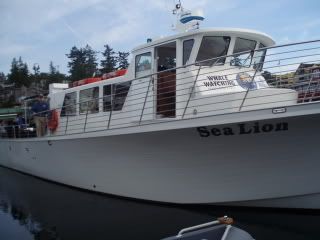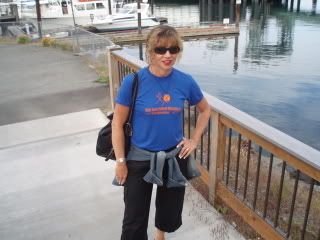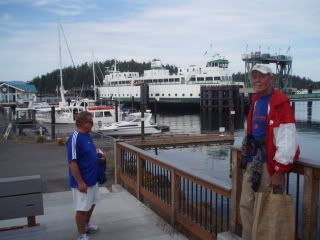 It was much colder and windier than I thought it would be. Fortunately, we had an inside cabin with plenty of windows so we could take in the view in comfort.
And view we did! We must have seen at least a dozen Orcas from the pod we saw the day before at the lighthouse. These whales are amazing. I couldn't believe how much information there is on this particular pod. Each whale has a name and is identified by a marking or characteristic. As we watched them breaching and tail slapping, Margot pointed each one by name and bio. I guess if you saw these same whales going past everyday, it would be a sight as familiar as your neighbor out walking their dog!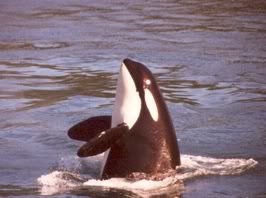 As the whales gathered together and went into their "sleep mode" our boat turned around and headed for shore.
I have to say this was one the best highlights of our trip. I've been whale watching before; however I have never seen such a great show! I strongly recommend this trip to anyone who has a chance to take it. Keep in mind, the San Juan Islands are an easy day trip from Seattle-you can sail from the harbor in the morning and be back that same evening.
Back in Friday Harbor, we went returned to the Downrigger for dinner and back to the hotel for an early evening. It had been a very long day!
Day 4: I tried to sleep in however I was still up about 7am. That was okay as I had some work to do from my office. The hotel does a complimentary breakfast, so stopped in the breakfast room for a leisurely breakfast.
Long gone was yesterday's beautiful weather! It was cold and rainy. We took our time getting ready and stopped off in town for some last minute shopping before boarding the 1:40pm ferry.
We arrived in Anacortes about 3pm, drove to Seattle and planned to do some sightseeing at Pike's Market, which is somewhat of cross between San Francisco's Pier 39 and an actual fish market. Our visit was rather abbreviated as it was just about 6pm, closing time, when we arrived.
We did stop off in an Irish pub for dinner and then returned to the airport for our "very-delayed" flight back to Las Vegas.
The San Juan Islands proved to be a great weekend "escape" from the summer heat of Las Vegas, a fabulous sightseeing adventure and a beautiful course for a 26.2 mile hill workout!