One Birthday Boy, A Bad Knee and 103 Marathons:
"My" ING Georgia Marathon
By Martha Corazzini
I first heard of the ING Georgia Marathon last fall. I immediately penciled it in on my marathon calendar. A brand new marathon- how exciting!. In fact, back in October, when we ran the Twin Cities marathon we met some runners from Atlanta, and I very excitedly told them how we'd be in their city in a few months.
So…with all of this anticipation and early planning, how did we end up needing special permission from the race director to Fedex our entry forms after registration closed?
Just goes to show you to pay attention when you're running an inaugural race—don't procrastinate. Sign up early. It may seem like you have all the time in the world to get your entry in, however when it's capped at certain number and the race meets their maximum early-they're serious! This turned out to be a very popular spring marathon! The only other marathon actually in Atlanta is held on Thanksgiving Day—not really a day most people can run a marathon and it's known to be a very hilly course.
We left Las Vegas on a red-eye flight the Friday night before the race. Our group, consisted of myself and LVTC members Phil Weiland and Steffen Schneider. After running the LA marathon a couple weeks before, Phil, who was celebrating his 72nd birthday on Saturday, had opted to run the half marathon. He was also scheduled to run the Laughlin Half the following week. Steffen, suffering from a knee injury for the last few weeks, decided not to run however he came along for the ride anyway.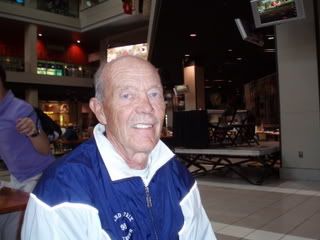 My friend, Kathy Kass was flying in from NYC on Saturday morning to meet us. She is a member of my team in NYC, the Flyers and having just completed her 10th state, a new member of the 50 State Club.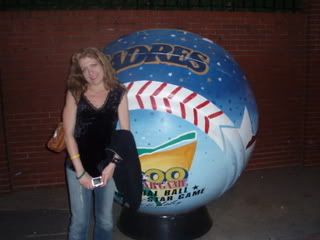 Of course, you can't go to any marathon without running into several 50 State club members, we also met. Edson Sanches, also from NYC, who's run over 400 marathons and Sharon Kerson from LA, who last year became the 2nd woman to complete a marathon in all of the states for the 3rd time. She's also a LA Marathon Legacy runner-meaning she's completed the LA marathon every year it's been held.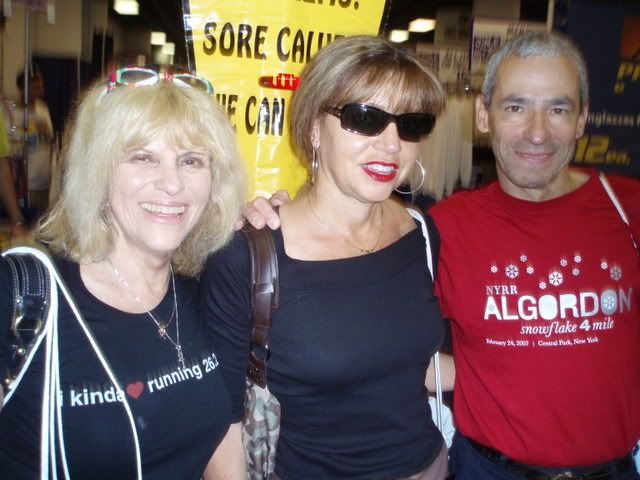 .
Our flight landed in Atlanta before dawn. With plenty of time to spare we took the Marta train from the airport to the hotel. Marta. is the name of Atlanta's metropolitan transportation system which actually turned out to be a very efficient and easy way to get around. (I hoped they would give me a discount for having the same name, but no luck)
.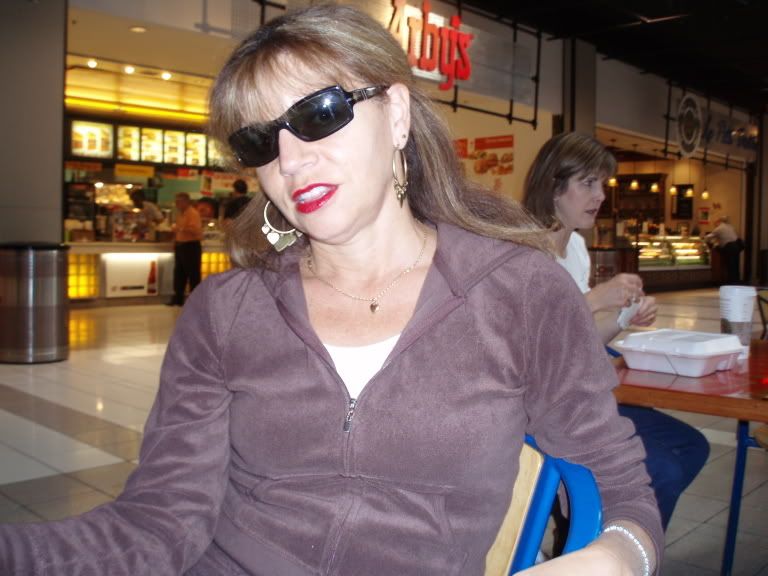 It wasn't even 8am when we arrived at our hotel, the Omni at CNN Center. If you have ever arrived early at a hotel, you probably know, universally, check-in is not until 3pm. I hoped that we would be able to check in early however not such luck as the hotel was sold out the night before. There's a huge food court in the CNN complex, so we lingered over breakfast then went back to the hotel and caught a nap on some couches in the hotel lobby until Kathy arrived and it was finally time to go to the expo.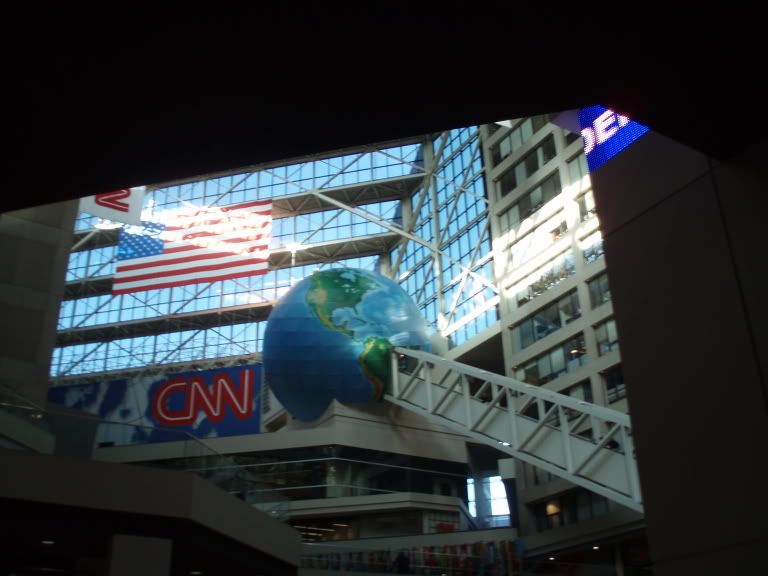 The expo was only a few minutes from the hotel. As we walked over from our hotel the first thing I noticed was how sunny and warm it was—bad news the day before a marathon!
Second, was the line of runners waiting to get into the expo—it stretched around the building! We joined in and resigned ourselves to a long wait when a race official came through and asked who was running the full marathon. About 3 of us stepped out of line and she escorted us past the rest of the crowd of HALF marathoners. Is it 1 to 50 running the marathon?? I thought. Turned out the Half had about 10,000 runners and the full about 4000.
The expo itself was great. It was all very well organized so we sailed through packet pick up. There was a great variety of vendors-from running clothes and socks with funny sayings on them to all sorts of nutritional breakthroughs and devices to prevent injury. I even found one company that made marathon clothes for dogs! Of course, I bought 2 doggie marathon shirts for my guys.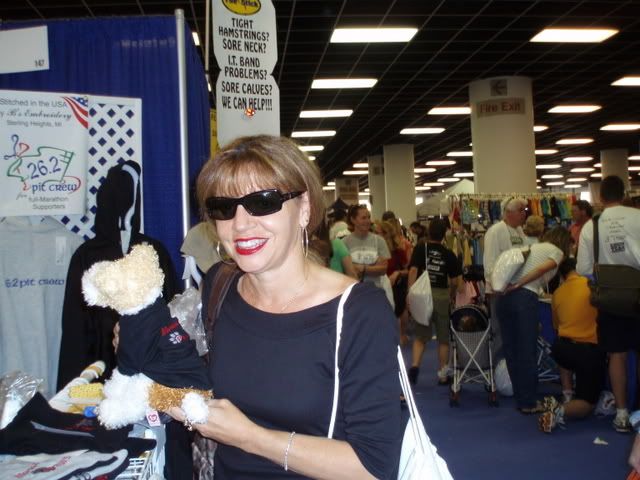 AND as a reality show junkie, I was excited to see Dawna Stone, the winner of the Martha Stewart Apprentice, who was there promoting the magazine she founded- Her Sports and Fitness. After hours of expo sampling and shopping, we made it back to the hotel just in time to leave for dinner.
After about 100 pre-race pasta dinners, I've found that any and all of the Italian restaurants will be packed the night before a marathon. With no organized pasta dinner provided by the race, I decided that we had better make reservations for Saturday night before we got into town, or we would be out of luck. After a bit of research we found that Maggiano's in Buckhead would be perfect. Although, somehow our group went from a party of 4 to 6 and then to 10, the restaurant just kept moving our reservation to an earlier time.
Two more 50 Staters joined our group, Debbie from Arizona and Chuck, from North Dakota. We also had "Klink", a member of the LVM21 club from Omaha and her friend Laurie who recently moved to Georgia. The LVM21 club was formed last year through the Las Vegas Marathon message board. "Klink" is actually her board name-she's really another Kathy. Even though the main focus of the club is the NLVM, we've been able to meet many of the club members throughout the country at different events throughout the year. It's a great, friendly and supportive club. Check out the web site for more info-www.lvm21.com.
As it turned out, Maggiano's certainly would not disappoint any serious carbo loader--.a small portion is half a pound of pasta!
After a great a dinner we headed back downtown via Marta and made a stop at Underground Atlanta, a popular dining, shopping and entertainment venue, however with a 7am race start, Saturday night ended rather early.
We did get a chance to walk by the race starting line to plot out our route for the morning.
It was only a few blocks from the hotel.
Race Day Morning- First thing Kathy and I did when we woke up was to make a bet as to whether or not Steffen would run. Actually, we couldn't even bet against each other as we both thought he'd try.. Even though he had the bad knee and planned not to run, he had picked up his race number and chip at the expo "just in case" he felt better.
However, when we went down the hall to the guy's room to pick up Phil for the race, we found that even though he was in his running clothes, Steffen had decided not to run.
Just the three of us, set out for the marathon. At 6:30am temps were already in the 60s. It looked like it was going to be warm!
As we got closer to the crowd, there was someone handing out sausage and biscuit sandwiches from Waffle House. For those who don't know, Waffle House is a more regional version of IHOP, only with more fat and calories. To my surprise Phil took one! Phil, probably weighs less than I do and is not known for his appetite! Needless to say he found that a few bites were enough.
We tried to move up closer to the starting line but it was too crowded. It didn't seem that we were so far back until I noticed the 6:30 and 7 hour pacing groups in front of us!!
Apparently we couldn't even see the starting line as it was around the corner and several blocks ahead. When the gun finally went off, it took us 14minutes to get across the starting mat.
As a first time marathon, I have to say there were glitches. Fortunately, there were not many. Mostly at the water stations –the first was overwhelmed and unprepared for the number of runners they had to deal with. The second water stop was nonexistent; which left the marathoners with no water until mile six! Bad news on a hot day; by the end of the race the temperature was in the mid-eighties!
Water stations later in the race were okay. Better organized any way, however if you were expecting to see Powerade, most of them were out.
Many of the runners were complaining. It wouldn't change anything to listen so I turned my focus to the spectators. As the race passed through mostly residential areas they were plentiful! As they cheered, I cheered back at them and thanked everyone for coming out. ING must have run a good campaign as most of the crowd was dressed in ING's color, orange! I've never seen anything like it before.
I knew that there were some other runners I knew out on the course; out of 4000 runners I never expected to see them however-I did!
After the first disastrous water stop I met up with Kathy. I was running and talking to her for a few minutes when ahead of us I noticed a 6'5" man wearing a dreadlock wig that came down to his waist. On the back of his shorts was a pirate skull and crossbones flag. "What a jerk" I thought until I realized it was Daniel aka "Braz" of the LVM21 club! As he lives in Atlanta it was not a big deal for him to jump in and "unofficially" pace his friend, Claudia in her first marathon. Braz usually is about a 3:15 marathoner. He had no idea what went on in the back of the pack and was taking it all in very lightly as he ran a six hour pace with Claudia. In fact he made a point to stop and sample every Mimosa, Bloody Mary and beer that was offered to him on the course! By the time he got to the finish line he claimed that he was drunk!
After, hugs and kisses and a few words into the "Claudia Cam" he carried to record every moment of the race for her we were off.
Next I saw Dana, another 50 State Club member who spent about 3 hours run/walking with me in the Breakers Marathon last October. I was sick that weekend however that's the only marathon offered in Rhode Island all year. I had to run and I had to finish otherwise I would not have been able to finish the states as I had planned to January 1.
In fact would have had to wait until this October. Thanks to Dana, who met up with me at about mile 13 and stayed with me to the finish line I made it. Without her I probably would have crawled up under a tree and gone to sleep.
AND I finally got to meet my father's friend from the airport, Arthur. My father is retired however to keep busy he has a job in security at Ft. Lauderdale airport. For more than a year he's been telling me about this fellow, Arthur, a dentist and 50 State Club member, who he sees on his way to another marathon every week. Yes, he's traveling to something EVERY week. In fact, he comes home on Sunday and goes back to the "Departures" area to tell my father about his trip.
Right now, Arthur is approaching his 200th marathon and planning a big celebration, which my dad has already been invited to.
Oddly, out of all of the marathons I've run, I've never met him, when I heard that he was running in Atlanta too, I made a point to keep an eye out for him.
I've seen photos of him and he always wears a very distinctive "Yell Go Art" shirt.
About mile 22 I saw a runner that I thought might have been him. I sped up a little and peeked around so I could read his shirt. Sure enough it was him!
Still running next to him, I introduced myself; he seemed equally excited to meet me.
He was actually doing a "double" –which means that he ran another marathon the day before. He told me to go ahead while he walked for a few minutes. Next thing I knew he took off and was passed me!
The most moving part of the race for me came at the finish line. It was a much hillier, more difficult course than I had expected; plus it turned out to be a very warm day. As I was running those very last steps, with chafing under my arm burning and my legs aching; I heard the finish line MC announce that Scott Rigsby had just finished becoming the first DOUBLE amputee to complete a marathon. With that I completely forgot about my minor aches and pains. I could only imagine his will and determination, the hours of training he must have endured, to be able to run the same 26.2 miles that I had to get to that moment. There was no way I could complain about anything- all I could feel was how proud he must have felt and what an inspiration he was to anyone who is up against the odds in any situation.. You can catch a minute of him running on this You Tube link-
http://youtube.com/watch?v=X7QCcpbvunc
All and all it turned out to be a great race and a good time. Kathy picked up her 11th state. Phil placed 3rd in his division in the half and had a great birthday. Steffen's knee is on the mend. Hopefully he'll be back for next month's marathon! AND I completed my 103rd marathon and can't wait for the next!