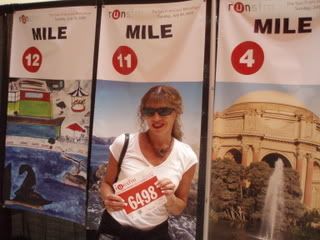 I'm finally getting a little report together on the San Francisco Marathon!
First of all congratulations to Richard! You're making all of you running accomplishments look so effortless, it's easy to forget that you've only been racing a year! Good job!! Something to remember for next time- this was not an easy marathon for a first time out.
In fact, my friend Laurie, who ran her 130something marathon that day, said she had a tough race. Laurie competes in Ironman and has won 10 marathons, so if she thinks a race is difficult – she knows what she's talking about.
******************************************
Anyway, with no friends to travel with from Las Vegas (the usual suspects are injured and over-raced) I took an hour and half flight out of LV Saturday morning and arrived about shortly before noon.
(Me saying good bye to Sunny at McCarran.)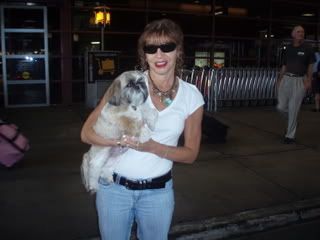 Laurie was flying up from San Diego. We met at SFO and took the Bart into the city. This was my 4th time running the marathon, plus I'd been to SF several other times; however I had never taken the train before.
After living in NYC for about 10 years, I've taken enough public transportation, however not wanting to seem like a "princess", I went along with the train idea without any objection.
I do have to say it was easy, fairly fast-about 30 minutes to downtown, very cheap and best of all dropped us outside of our hotel, the Hyatt Regency Embarcadero.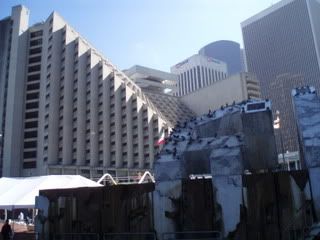 Without a doubt, the Hyatt is one of the best places to stay for the marathon.
The expo is outside on the Plaza, the start and finish lines were just a block or so away. Even better, I had booked very early and got a travel agent discount (something that is seldom available in any city during a big marathon weekend).
After we checked in, we went to the expo. Packet pick up was in a building across the street from the hotel and the expo just downstairs.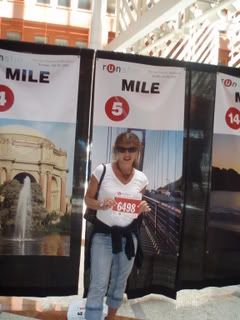 It was great. Lots of good speakers-Dean Karnazes was one. Unfortunately, I hadn't checked the schedule so we were too late to see him.
There was quite a bit of shopping. After vowing to myself, that I wasn't going to buy anything....$80 later, I was stocked up on Power Gel and Gu, new sunglasses and replacement socks (the puppy seems to have a sock fetish and either chews or runs off with my running socks leaving me a drawer full of unmatched socks!)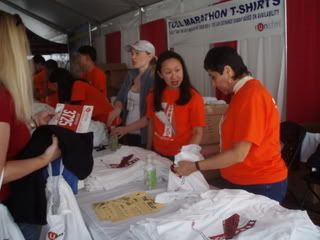 After the expo, I went back to the hotel and hung out while Laurie went to church. When she got back, we decided to do the Pasta Dinner held in one of the hotel's restaurants. Granted San Francisco has great restaurants, so there are probably hundreds of better choices, however this worked out fine as it was just the 2 of us and this was very convenient.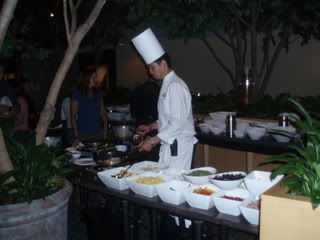 After dinner I just watched a movie and went to sleep fairly early.
SUNDAY morning, with 2 wake up calls ordered, a clock radio and a cell phone set to go off at 430am, I found myself up at 415am.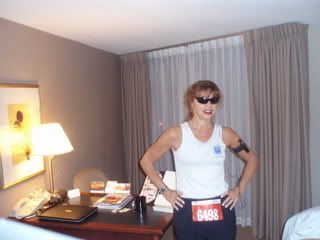 [
San Francisco has a "wave" start-the fastest runners are out at 530am, and then each wave starts every 5 minutes after that up to I believe 615am. Your wave placement is based on your predicted finish time, I had signed up for 4:15 so I didn't start until 6:10am.
Laurie's start was about a half hour before mine, so she was up and out before 5:30am.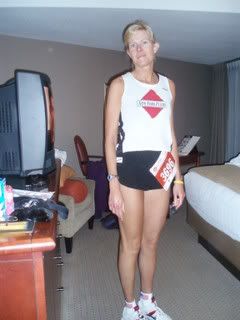 This left me time (too much time actually!) to recharge the batteries in my camera and MP3 player, plus try on a few outfits that I thought might be more comfortable, warmer or cooler than what I planned to wear. I finally decided to wear what I have picked out the week before.
About 5:50am I realized that maybe I should be getting to the start...
this sounds later, however is worked out fine-- from my room on the 2nd floor to the street was about a minute, the baggage check was right in front of me and the start a block away. In fact as I was dropping my bag, I saw the 6:05am runners take off.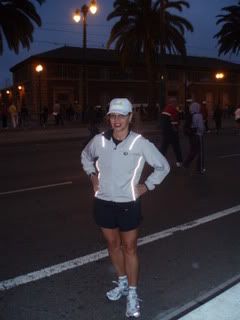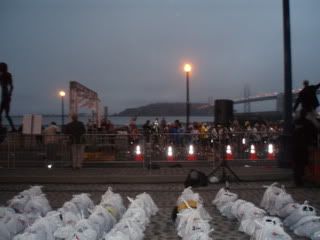 When the gun went off, I noticed the 4:15 pace group right in front of me. I looked through the crowd however I didn't see Richard or anyone else I knew. I remembered that we were in the same wave however I imagined that he had sped ahead when the gun went off.
I have to mention that I was not a fan of this "wave" start, I really didn't see that it was necessary (SF is nowhere near the size of NYC or Chicago), however I did find that it did work well and kept things organized. Back in May when I race the ING Georgia marathon, it had taken me over 14 minutes to get to the start here it was a mere 90 seconds.
My goal was 4 -4:15. Knowing that I always go out too fast and fall off the pace, I decided to keep ahead of the 4:15 group as long as I could. Who knew, it could have been a good day? As I passed the group, a tall, yellow shirted figure came in to view. At about 6'5" in a LVM21 shirt with red shorts it could only be Michael. We chatted for a few minutes. When he told me that Richard was BEHIND us, I was a bit surprised. I guess that I shouldn't have been as sticking with the group probably would have been the best move for all of us!
As I moved ahead, I could hear the fellow Michael was running with ask him about the Las Vegas marathon!
Next thing I knew, Richard was aside of me. I was so happy to see him! I had a feeling that even though we hadn't made a plan, we'd meet up.
The first couple miles are along the water and by Fisherman's wharf. All fairly flat. You really don't encounter any for the hills until about the fourth or fifth mile.
Somewhere at that point, I lost Richard in a water station-he stopped to walk and I just grabbed my water and kept running.
For the first half of the race, I kept my MP3 player off. The crowd and the scenery were entertaining enough! I listened to conversations around me, heard the spectators cheering and even birds singing! As much as I love my music, it's nice to take a break once in a while.
We got to the Golden Gate Bridge at mile 5. It seemed like most of the runners really enjoyed this part of the race. I found it hectic! One side of the road was open to traffic and the other was out and back runner. Very crowded and due to the mist and drizzle-slippery! Plus the distance is much longer than I thought – mile 7 and 8 are on the other side.
I was mid-bridge when I heard someone mention my name. Actually, it was more like "Martha, Get out of my way!" Who could this charming person be? Michael again. He said hello and took off! He looked so strong ass he passed everyone.
After the bridge came the Golden Gate Park. Sadly at this point my hamstrings started to cramp. One would think that running in weather fifty degrees cooler than you're typically running in would be easy. "Refreshing" to remember Angie's description of running in 40 degree, drizzle---no not at all. I completely blame the dampness and chill for messing up my hamstrings and blowing my chance for a good time.
At mile eleven, the 4:15 group passed me. Trying not to get too depressed, I convinced myself that it was okay—just because the group went on didn't mean that I couldn't have a 4:16 or 4:17 on my own.
At the halfway point, Richard reappeared. He looked strong too and quickly passed me. Hills and more hills is all the entire park is made up of! Actually, it is very beautiful—much "woodsier" than Central Park in NYC.
In most marathons where they also have a half, I'm subconsciously waiting for the half marathoners to finish. In my mind, that's when the marathon really begins.
No such luck with that approach in San Francisco! As the half marathon veered off to their finish line, I happened to glance over to the other side and saw an entire field of runners waiting for their "2nd Half Marathon" to start!
A unique feature of the San Francisco Half Marathon is that you have choice of running the first half or the second half. A bit complicated system, however they pull it off like clockwork! They end route them away for them the marathon runners for the first couple of miles.
Once out of the park, we hit Haight Street. The Haight came to fame with the hippy movement back in the 70's. Not much has changed since; as you look around you'd think you'd stepped back in time. This Sunday, I hardly noticed – all I could see was more hills. AND as if the up hills weren't enough, the down hills are so steep they're just as difficult to run.
I decided at this point, my up hill running was slower and more uncomfortable than walking. I start to alternate, walking mostly up hill. At roughly mile 20, I noticed another gal running near me, so I struck up an "on and off" conversation with her. On and off meaning we'd talk, one of us would stop, one would go on and we'd keep meeting. This worked out great---I had some motivation and got myself back into the race.
About mile 22, I catch up to Richard. We talk and run a couple miles together. He wasn't looking too good, so I tried to keep his spirits up and say something encouraging. When I heard his account of what I said, it came off rather bitchy. Oh well, hopefully he's a follower of "tough love"!
With just two FLAT miles left to go, Lynda-the gal from mile 20, said to me, "We can still break 4:30.", I look at my watch and am totally confused by the time. I guess along with my hamstrings, I've lost my mathematics skills! I then realized that she's right.
A sub-4:30-finish time would put me into my "acceptable" time range; so I decided to go for it.
Suddenly, I felt better than I had all day. So I took off. I thought Richard and Lynda had followed however when I turned around they were not in sight.
I just kept running, amazingly the time for my last mile was my fastest of the second half.
I waited at the finish line for Lynda and Richard. I congratulated both of them, took some photos and checked out the post race food. It looked as though they had a lot, however when you looked at each item, most were not that appetizing!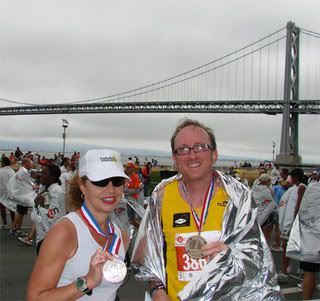 It was there again I spotted Michael. Surprisingly, he had finished behind Richard and me—although I guess it wouldn't be too much of a shocker as he claimed that this was his ONLY long run.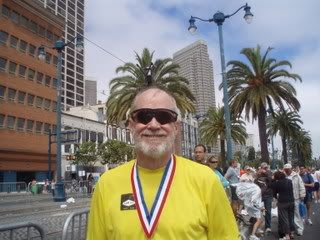 I hung around the finish line a bit longer, then headed back to the hotel, to check out and set off for an adventure in "finding something to do until my flight".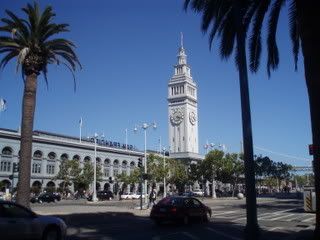 The medal had a great picture of the sea lions from Pier 39.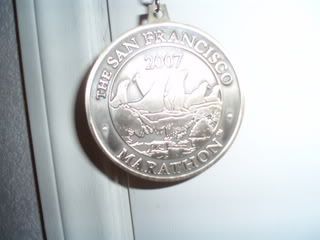 I decided to pay tribute to them and visit.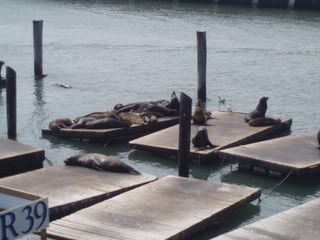 Pier 39 is no longer a working pier! The sea lions have kicked out all of the boats and have taken over. The pier itself is basically a mall and food court.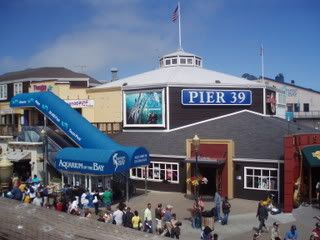 After about an hour, of walking around, I took the street car back to the hotel, grabbed my luggage and headed back to the airport via BART.
Ond of the Wyland Whale Walls across from Pier 39
I would rate San Francisco as the premier marathon of the summer. Nothing else comes close.
Yes, even with the hills!